Success in Autumn 2017 for the under 17 1's
Based in Meeniyan, South Gippsland's representative Netball Club, Southern Fusion, is celebrating another premiership, this time for the 17/U 1's at Waverly Netball Centre (in Section 2 of the 17/U Premier Division) on Wednesday night. It was a very close, hard-fought game, with the lead changing several times and at one stage in the third quarter Southern Fusion trailed by seven; however, persistence, effort, and a "never say die" attitude saw the girls hit the lead to hold on with only a couple of minutes to go. Key defender Jayde McGlead was awarded Best on Court honours by the umpires, and the team celebrated with dinner afterwards at the Wheelers Hill Hotel (along with family and friends…..around 50 people in total!). Next season, commencing later in July, the team will be promoted to Section 1. This will be a big step up, but the girls are looking forward to the challenge. This team has recently returned from a fantastic weekend competing in the NSW State Championships in Sydney. This opportunity is unique to Southern Fusion, and one that the girls enjoyed immensely and will remember for life. Although the standard was incredibly high, the girls managed to win 4 games and drew once. It was a wonderful learning and bonding experience, and no doubt set the girls up to win last week. The 15/U 1's team are travelling to Queensland for a similar experience later this month.
This year, Southern Fusion boasts seven teams spread across three junior age groups, providing the opportunity for over 60 local girls to play netball at their optimum level and reach their potential (while loving it!!). It is also a terrific avenue for coaches wanting to move up to the next level. Try-outs for next year's teams have been scheduled for October/November. All keen netballers are welcome and invited to attend; please visit Southern Fusion Netball Club on Facebook for details.
---
South Gippsland showcase talent at Fusion trials
Southern Fusion have come out in force at trials over the past two weeks. The strength and talent which has been displayed at the 2016 trials has been of the highest quality. Fusion is becoming a power house club for those players wanting to take the next step in their netballing careers. We have the pathways to give our players the best chance for association, academy, regional, state and VNL sides. We have had great success at Waverley Netball Centre, the top junior and senior representative level competition in Victoria. With our under 13's, under 15's, under 17's and open teams being present within finals campaigns over the past 3 years. Our success has been no more dominate than this Spring Season with all 4 teams in the top 4 on their respective ladders. We have our under 13's, who were grand finalist last season, looking at taking out the premiership this time around. Both under 15's have improved out of sight and become dominant competitors within their section. The under 17's after narrowly being knocked out of finals last season, have positioned themselves well for the remainder of the season. Southern Fusion has had a great two weeks of trials so far and with one week to go, make sure you get down to be part of South Gippsland's representative club. On Sunday morning at 9am our under 13's last trials will begin, where we hope to field two sides for Waverley in 2016. 11am sees our under 15's kick off to fill two or three sides for Waverley. Finally at 1pm the under 17's and Open will be eager to impress to trial for a premier league spot within both under 17's and Open sections. Everyone is welcome to attend the final day at Meeniyan without prior registration.
---
Southern Fusion set new standard for 2016 teams
Southern Fusion Netball Club representatives have been working tirelessly over the past year and have the results to show for it. All 4 teams at Waverley are currently sitting inside the top 4 on the ladder. Our under 13's teams have both made grand finals this year and are positioned to go again in the second season. The under 15's teams are tracking nicely and have improved in leaps and bounds and are now playing some fantastic, high quality netball. The under 17's after narrowly missing finals last season, are more eager than ever to fight for their finals spot and are demolishing teams on the way. These results come from a high quality training program for our players and coaches. Fusion have players representing our club at all levels of the Netball Vic Development Pathway. We have players who are currently competing at Victoria's highest competing (VNL), through Gippsland and La Trobe state titles teams, zone academy's, association representative sides from 4 leagues. We also have many league and club best & fairest winners. Trialling for our 4th year of competition, we are aiming to fill SIX sides again for 2016 - 2x 13's, 2x 15's, a 17's & an Open. Trials are on 18th and 25th October and 1st November at Meeniyan & District Sports Stadium. Times for trials are: under 13's @ 9am – 11am, under 15's @ 11am – 1pm, under 17's @ 1pm – 3pm and Open/Seniors @ 1pm – 3pm. Make sure you get down to these trials to take your netball to the next level. If you have any further questions about Southern Fusion or trials please contact us on 0417 168 423 (Ben), info@southernfusion.com.au or visit our website www.southernfusion.com.au. Come along this weekend and be a part of South Gippsland's best representative club.
---
The Under 13 A's have followed trend with all teams
Our fantastic under 13 A's have continued the trend of all new Fusion sides by making the finals, at Waverley, in their first season. Not only did the under 13's make the finals, but they made the grand final. Going in with two players out for the grand final, was not ideal, but the girls manage to come together during the semi final to perform far beyond anyone's expectations for the season. The semi final saw their biggest performance yet, winning by one of their biggest margins for the season (25-16), and playing some incredible netball.
Then came the grand final. The girls then came out firing. Both coach and players were extremely nervous and had nothing to lose and everything to gain. Playing against a formidable opponent, who had remained undefeated all season in their section. Fusion were up and about to claim an early lead in the first quarter and had their confidence up and wanted to prove why they deserve their spot in the grand final. However, a 9 goal margin had opened up at half time, meaning that their heads had dropped slightly, but this didn't stop them. A huge spur in the third and fourth from Fusion saw the girls push Melbourne Waverley to their limits. Although the final score was 18-34, players, coaches and supporters saw it the other way, with our girls making everyone so proud of their ability and maturity.
These 9 girls have showcased Southern Fusion and South Gippsland netball in the best way possible, and made their mark in the competition. All 9 players, and their coach, were in their first season at Waverley and have proven what hard work and determination can result in. These girls are hungrier than ever, for the next season to start, to see if they can not reverse the score line their next grand final appearance.
WELL DONE TO JULIE AND HER TEAM OF SUPERSTARS - ZALI, SOPHIA, ANNABELLE, JADE, BELLE, ALICE, CAILIN, CHELSEA AND RHANI.
---
An exciting start to Spring season at Waverley
With a BIG win, by 30 goals (49-19), from our Under 17's, is a great way to kicking off the new season. The appointment of Yvonne Porter, has also given them a great incentive to prove themselves to a new face, and to continue the work they had done in their first season. The freshness after the break was evident. To continue on this way, with their positive attitudes and willingness to learn will take them a long way.
The Under 15's will be looking forward to their first game, after an outstanding first season, being premiers of their section. Having a new set of teams to now contend with, work rate and intensity will need to lift yet again. These girls are truly capable of anything, but it is the hard work between now and the end of the season, which will determine just how far they can go.
---
Presentation Night starts off with a BANG BANG POW!!!!!
Southern Fusion Netball Club conducted our first Presentation Night on 16th June 2013. With the theme of the night being Super Heroes and Villains, we had all girls flying round the dance floor at the end of the night. At the end of our first season, the girls were able to reflect on what had become, and look forward to the season ahead.
With the Under 13's team still participating in competitions throughout Victoria, they were not presented with any awards on the night. Instead provided the crowd with a lot of laughs during their cameo performance.
The Under 15's, along with speaking about their individual netballing aspirations and their inspirations, as to why they play netball, they were recognized for their individual achievements. The award winners were – Ally Cengia (Best & Fairest), Amy Robertson (Runners Up B&F) and Chloe Kalis (Most Improved). All girls also being recognized for finishing the season with 10 wins and 3 losses, meaning they finished in first place in their section.
After reflecting on a previous netballing experience, our Under 17's, had an exciting change and were notified of a change of coaching staff. Yvonne Porter, who is currently the assistant coach for Fusion 15's, will be taking over the reins for the second season. With a different approach to coaching, Yvonne will be looking to develop and steer these superstars for seniors in coming years. The individual success for the Autumn season at Waverley was awarded to – Mercedes Mathewson-Vardy (Best & Fairest), Amy Watkins (Runners Up B&F) and Bridget Monaghan (Most Determined).
All three teams have improved out of sight. The Under 13's, with three tournaments still remaining; there will be plenty of determination, after making their first finals appearance at Frankston. Under 15's will have a much bigger season, now that they have been promoted to section 2, but will also have a higher expectation from coaches after their magnificent grand final win. Finally, the Under 17's with new coach and a new look game style are definitely ready to go, in a new 12 team section.
Lastly I would like to thank Meeniyan & Dumbalk United Netball/Football Club for the use of their new rooms.
---
Community Sporting Champions Recognised
Announced at a special ceremony at the MCG, the Minister for Sport and Recreation, Hugh Delahunty said the Club was one of nine outstanding examples of the power of community sport to bring people together.
The winners and finalists of the Victorian Government's 2012 Community Sport and Recreation Awards are: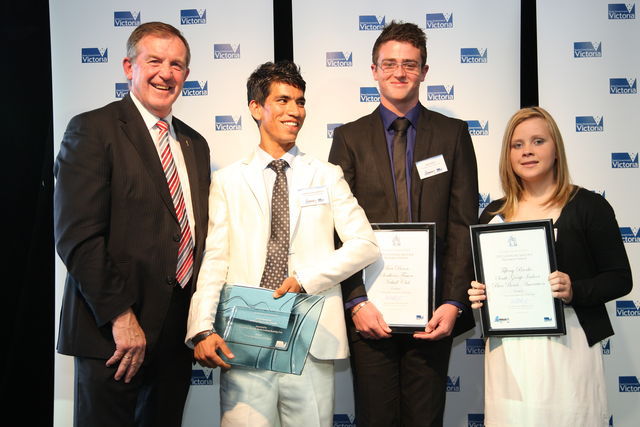 Winner: Obaidullah Jamshidi, North Geelong Running Club
Finalists: Ben Dixon, Southern Fusion Netball Club and Tiffany Brodie, South Group Indoor Bias
Bowls Association
The awards are supported by major sponsors, Deakin University, School of Exercise and Nutrition Sciences and AFL Victoria, and associate sponsors, MSAC Institute of Training, Football Federation Victoria and Netball Victoria.